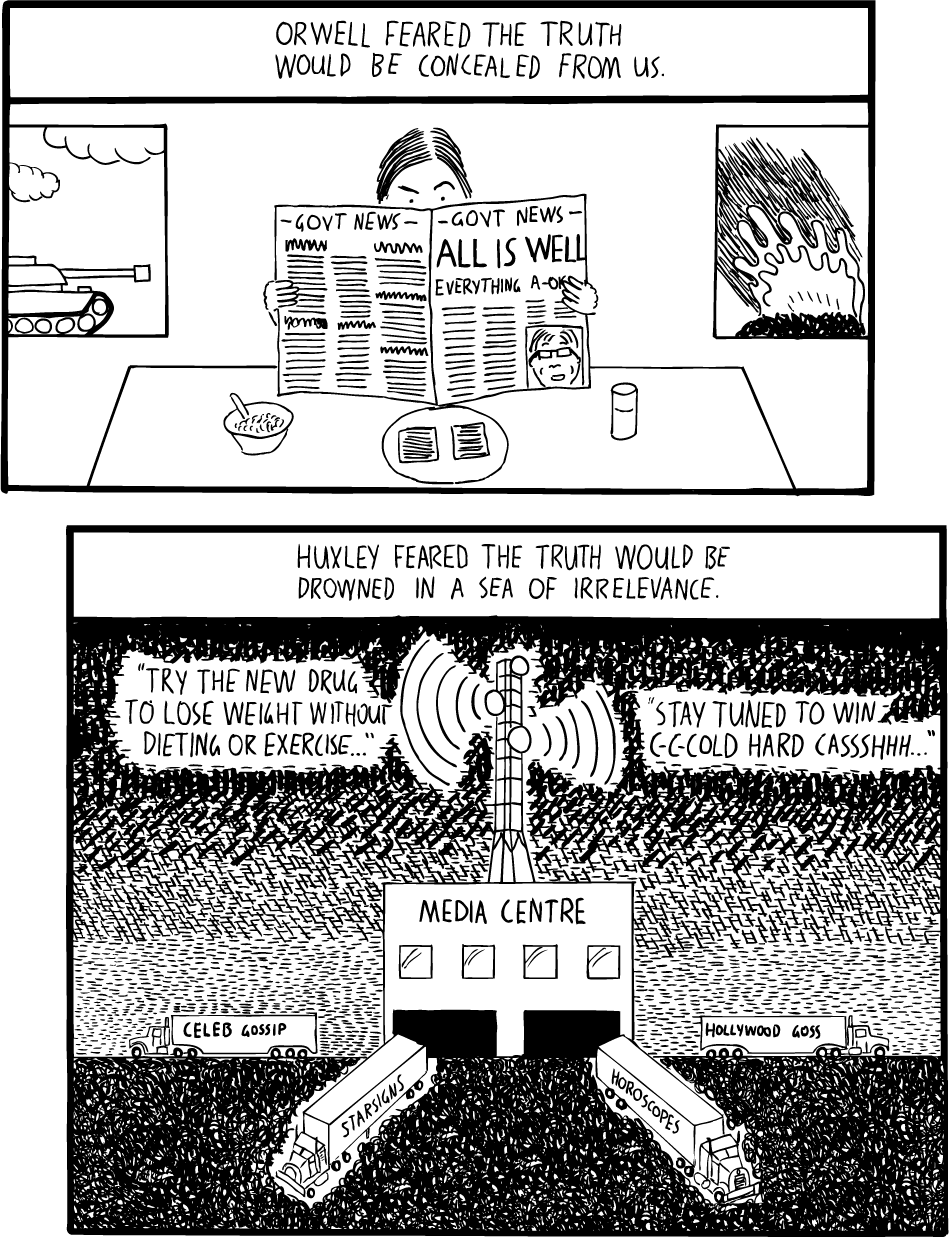 Although penned more than a year and a half ago, I recently stumbled upon a thought-provoking cartoon by Stuart McMillen and based on text by Neil Postman.  I've posted two key panels to the left, but clicking there will take you to the entire cartoon. 
In full, it concludes that Huxley's fears have become more prevalent than Orwell's, and that the public has an "almost infinite appetite for distractions."  Information and entertainment overload are thought to be contributing factors.  We are hyperlinked, super networked and gadget consumed.  (For example, how many travelers do you see toggling through email, Twitter, AP news and Angry Birds apps when in an airport?  How many of you are those travelers?  I'm partially guilty.) 
If the Huxley fears are accurate, it raises an interesting question for crisis/reputation managers.  
Does a crisis today have more impact or less impact than, say, a decade ago when bad news came from fewer focal points? 
By example, I'd venture to guess that the public was more informed about the Toyota recall or the Qantas' emergency landing (caused by a faulty Rolls-Royce engine) than a decade ago.  But is the impact the same as a decade ago?  
In 1986, Audi lost tremendous market share during its "sudden acceleration" situation that peaked through a 60 Minutes television piece.  And Toyota last year?  According to this report from Kelley Blue Book, Toyota's used car value held strong throughout the year.  New car sales slowed, but that is attributed to consumer concerns about purchasing from a struggling car manufacturer. 
What about Rolls-Royce?  The company was criticized by many for being nearly silent about its approach to aircraft engine safety.  Many bloggers, pundits and social networkers condemned the company's communications department.  However, none of this breadth of awareness seemed to have any impact on the business – this report from The Wall Street Journal (sub. required) confirms new orders for its A380 aircraft engine, as a "sign of confidence" in the manufacturer.  So, what's the impact here? 
I'd love your thoughts on this, so I'm posting the following poll.  Please cast your vote and use the comments section below to provide any additional thoughts. 
Feb. 8 Update:  As of this date, poll responders above were fairly split on the results. This Advertising Age article on the @kennethcole situation (http://adage.com/digital/article?article_id=148706) suggests that the online impact may be intense, but brief, and then social networkers may just move on to the next event.  Interesting.